4
- MINUTE READ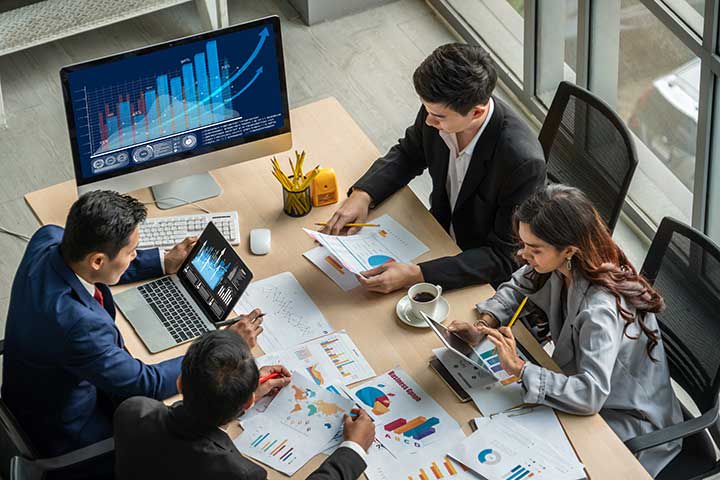 Finding the right HRMS for your business can seem like an endless series of challenges. So, the most crucial thing is to know exactly what features and functions you require. You must know what you want to do, therefore, Let's find out the 7 most common HRMS modules & features.
The problem is, "HRMS" is a pretty slippery term when you look at what HR software and technology is available. Some vendors use it to describe a basic employee database with limited functionality. To which can be bolted a number of compatible modules, each providing software support for one of the different HR functions listed below. And then, others actually use it as a complete label for a broader system. It includes most, if not all, of the following modules in a single optimized package.
Here are brief descriptions of the most common HRMS modules together with the key features.
The most popular HR system modules include:
HR database
Benefits administration
Workforce management
Time and attendance
Absence and leave management
HR analytics
Payroll
HR Database
An HRMS stores your employee records. It's not so much a feature as it is a basis for everything else. This can be as basic as name, address, telephone number, and job role, right up to a complete work record. Also, including performance management assessments and training undertaken. This may be the simplest feature of your HRMS. It is the most critical as it stores personal information, such as bank details, for payroll purposes. In addition, the question of the system's data security is fundamental.
Benefits Administration
Benefits management is all about providing timely information and aiding employees to make the right choice for their circumstances. Moreover, this module should manage and monitor employee benefits, healthcare, and pension/welfare packages, tracking enrolment options and any financial implications.
Common benefits administration module features include:
Online open enrollment
Automated communication of enrolment options and information
Plan comparison tool to aid employee choices, inc. costs and contributions breakdowns
Automatic event management of the benefits life cycle
Legislative compliance for your territory
Workforce Management
Primarily a scheduling function, therefore, this module should link closely to (and is often combined with) time and attendance and leave management. The real-time functionality may involve linkages to other business intelligence systems. Also, this includes ERP and CRM to match workforce deployment to shifting needs.
Common workforce management module features include:
Scheduling and shift management
Workflow monitoring
Management dashboard with real-time data and metrics
Time and Attendance
In addition, along with payroll, this is probably one of the longest-standing HR automation: the time clock. So these days, such systems often incorporate biometric identification. This is to avoid 'buddy punching' and will link directly to, or also, be an integral part of the workforce management module. And then, the information links to your payroll and accounting software.
Common time and attendance module features include:
Employment attendance tracking
Time clock management
Biometric systems
Functionality for remote and mobile workers
Legislative compliance (for example, mandatory minimum breaks)
Absence and Leave Management
Often linked to the time and attendance and workforce management functions. So, your leave management module is an automated way to allocate, book, approve, track and monitor any absence from the workplace. Therefore, It may be for vacations, compassionate reasons, illness, parental leave, even jury duty. Request and approval processes should be streamlined, and then, the outcomes incorporated into team calendars where appropriate.
Common absence and leave management module features include:
Self-service leave requests
Integration with workforce management (scheduling) and time and attendance functions
'Account management', tracking accrued vacation time and usage.
Metrics and analytics, including absence levels and trends
HR Analytics
Indeed, often incorporated as functions within other modules, HR analytics provide reporting capabilities (frequently in the form of libraries of HR metrics and benchmarks) assessing and analyzing the data gathered and stored with the HRMS (and other business systems) to provide strategic and predictive insights that can be used to guide the business strategy of the organization.
Payroll
A basic payroll function calculates and pays the salary of every employee. Similarly, it withholds the appropriate taxes and deductions. As well as organizes either the printing and delivery of paychecks or pays via direct deposit into employee bank accounts.
Traditionally, automated payroll was usually handled by a separate, dedicated piece of software. It's increasingly common to see payroll functionality bundled up in your HRMS. A clear benefit is that the essential employee data you need for your payroll is probably already stored by the HRMS. These data are their personal identification, banking details, and a record of hours worked, etc. Other features of the HRMS modules are data security and accuracy, less likelihood of errors, legislative compliance, and having all your people-related automation accessible via a single portal or access point.
It is important to note that some of the above modules might overlap in terms of processes or category. For example, the benefits management might fall under the payroll banner; indeed payroll itself might be 'filed' under the broader heading of compensation management just like taking in the wider reward and recognition packages.
Are you looking to take advantage of an HR and payroll technology tool? EversunHR provides innovative end-to-end payroll solutions. The right payroll system could streamline your processes, helps maintain a happy workforce, and avoid pesky violations of the law.
From digitized employee records, timekeeping data to payroll processing up to online payslip distribution, EversunHR gives you the means to catch up and surpass your competitors. We are always open for full-system demos, send an email to customer.success@agentsofvalue.com.